National Vice President Candidate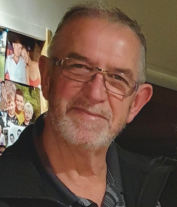 Stan Hansen
Personal Statement
I was born last century, in Temuka and current reside in Belfast, Christchurch. I am married to Sue and have two adult children and 5 grandchildren.
Employment History
I have been employed principally as a fire fighter, both permanent and volunteer, a soldier, a storeman, administrator, and more recent property and grounds admin. There have been other employments during this time, between desired employment opportunities.
Employment Achievements
NZ Fire & Emergency - Station Officer, all aspects of fire & rescue
NZDF - Staff Sergeant, Senior Rural Fire Officer NZDF Southern Region, Deputy Firemaster, Burnham Camp
Steel & Tube - Branch Manager, Fastenings Importation & Distribution
He Waka Tapu - Property & grounds maintenance & mentoring support
Employment qualification
NZ Fire & Emergency - AMNZFBI Fire Engineering Diploma, Station Officer qualification, search & rescue, MVA extrication, building construction, crash rescue, rural & urban fire fighting
NZDF - SNCO, (SSGT), Moral Leadership, Advanced medical, Snr All Arms Instructor, Defence Snr Rural Fire Officer, and so much more
Steel & Tube - Branch Manager, Business Accounting, Staff Recruitment Retention & Admin, Health & Safety Unit Standards, (L4), Logistics & Movements, and again, more
He Waka Tapu – continued learning Te Reo, cultural understanding & application
Military history
My family has a long military connection. A Great Uncle was KIA at Gallipoli on day one of the landings, grandfather gave Army service in WW1, father and his two brothers gave both Army and Air Force service in WW2, my uncle gave Navy service in Korea, my Army service was from 1974 until 1988, my brother served in the Navy, my son served in both the Navy & Army.
RSA
My grandfather, father, and mother were involved with RSA in Temuka becoming life members and an RNZRSA Gold Star recipient. Our family was raised with absolute RSA awareness and respect.
I have experienced the duties of Welfare/Support Officer, Secretary, Vice President, President, District Vice President and am currently, the Canterbury District President. I am very humbled and a proud Life member of the Rangiora RSA.
*Records of membership lost
RSA highlights
Restoration of vandalised & decimated graves at Springston cemetery
Development of simple effective sensible District rules
Creation of RSAs without boarders' concept
Enrichment of positive communications with NZDF & other partners
Assisting Local Governments with ANZAC preparation & application
Working to create better relationships with like-minded organisations
Being an honoured, involved & trusted representative for the District Associations
What's my agenda?
~ The drums of change have always been, but now resonate quietly louder ~
My moving ahead, key achievement targets:
Engage, enhance, & embrace the inclusion of new veterans' organisations as equal partners, on equal terms, supporting & incorporating the activities and visions they aspire and conduct, with conviction & enthusiastic acceptance.
Become an effective, respected, and influential advocate for service-related concerns, a prominent lobbying voice, that creates and achieves results for the benefit of serving & non-serving persons and their families, regardless.
Promote and introduce acceptable recognition of Aotearoa New Zealand's military history into the education curriculum with a view to informing and respecting our military history, since our beginning, giving understanding & value to remembrance and ANZAC.
As an organisation, we must create an open, cooperative, approach to each other. An approach that is and will be greeted with value and become appealing to the public. An organisation without boarders that will be the envy of critics. An organisation that will effortlessly attract membership, regardless.'
Today and tomorrow
I certainly look forward to and appreciate your support. I have confidence our organisation can and will endure the challenges & difficulties we as a Nation experience and have become accustomed to. Together, we will become stronger, healthier, a good partner to veteran organisations and groups who share the same values, a respected voice, an organisation worthy of those who created and developed the RSA, but never forgetting those, who's dignity, we grieve and always remember.
'Lest we forget'