National President Candidate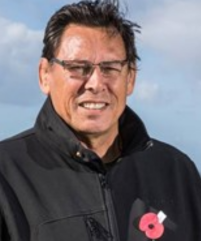 Sir Wayne (Buck) Shelford (KNZM, MBE)
Served in the Royal New Zealand Navy 1975–86
Basic Training then specialist course in Gunnery
Served in the Far East (HMNZS Otago) - 1976
Completed the Gunnery Fire Control Course and Seacat Missile Aimers Course HMAS Cerebus (Australia)
Petty Officers Command Course - 1978/79
Promoted to Temp Petty Officer - 1980
Completed the Joint Service PTI Course (Level 2) Wigram - 1981
Remainder of service at HMNZS Philomel PTI Training School
RSA Involvement
Member of the Auckland RSA Executive - 2017 – 2021
Actively involved in the RSA organisation for a number of years, member of Auckland RSA and Hibiscus Coast RSA.
Actively involved in commemoration/ANZAC events in the Auckland District.
Honours and Awards Received

Knight New Zealand Order of Merit (KNZM) - 2021
Member of the British Empire (MBE) – 1990
Life Member of the North Shore Rugby Club
Life Member of The Barbarian Rugby Club
Inducted into the Maori Sports Hall of Fame - 2007
Inducted into the New Zealand Sports Hall of Fame - 1991
NZCM (Community Service) - 1991
Rugby World Cup Gold Medal Winner - 1987

Achievements

Sport

Captain All Blacks – 1987-90
NZ All Blacks – 1985-90
NZ Maori All Blacks – 1981-86
Captain North Harbour – 1985-91
Captain NZ Combined Services – 1985
NZ Sevens – 1985-87

Employment

NZDF – 1975-86
Rugby Coaching - 1987-2001
Publican/Hotelier – 1995-2010
Community Service
Patron New Zealand Defence Force Rugby
Patron New Zealand Navy Rugby
Patron for the Passchendaele Society
Patron of 'Waimarie – Whatever It Takes Community Housing for Disabled
Patron for Te Reo Tuatahi Education Programme
Patron of the North Shore Rugby Football Club
Ambassador for 'Blue September' Prostate Cancer Foundation
Ambassador for The Life Keeper Suicide Prevention Programme. Le Va. Manukau
Ambassador for Te Kiwi Maia – First Responders
Vision for RSA Going Forward
From my time in the Navy and playing for the All Blacks I have learned a great deal about high-performing teams. Critical to both the Navy and the All Blacks high performance was the application of leadership and empowerment of everyone in those organisations to achieve the mission. My strength is in leading high-performing teams to achieve success.
What I intend to bring to the RSA is leadership and will apply this to:
Improving our governance from the current confused Forum and Board construct.
Connect with all RSA in a comprehensive and collaborative manner so we can define the type of organisation we want to be in the future.
Create thriving and vibrant RSAs that are linked to our communities and provide support to all their members.